Affiliate marketing is a simple business process. It begins with the fact that a business wants to sell its products. The businessman wants more sales channels, so that is why he hires an affiliate marketer who will popularize the outcomes of the business on their blog page. For each item sold through the affiliate marketer, the business company will give the affiliate marketer a commission. Affiliate marketing is the oldest form of commissioned selling; you could make up to $40,000 monthly based upon what you are marketing.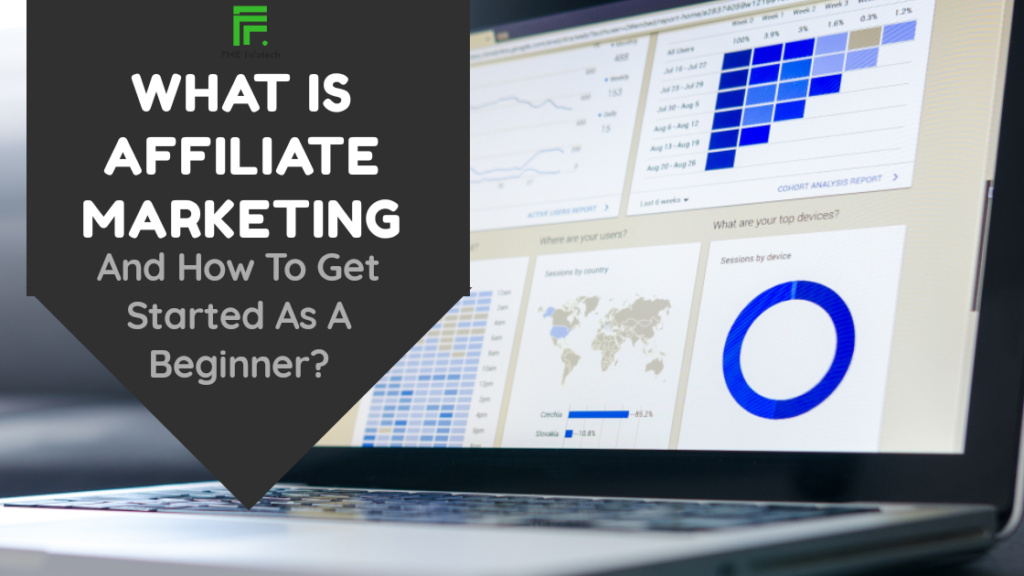 The affiliate marketer has to create a blog to promote the product; this could be a Facebook page or a YouTube channel. An affiliate marketer has to create content around those products that he has chosen to market by affiliate marketing.
Affiliate Marketing Explained
The affiliates bring traffic to the brand's website through lead generation. This lead generation means to pay for performance; you place the seller's link, banner, or button on your blog. When a customer comes to the affiliate blog, the said affiliate blog places a cookie on the buyer's computer; if the customer buys something from the merchant and the merchant sees the cookie on the buyer's computer, then the brand pays the affiliate marketer.
Pros And Cons Of Affiliate Marketing
Pros
You make a passive income.
You do not need a marketing educational background.
You can make it a hobby which you indulge in your free time.
Cons
You do not control the products.
It is competitive.
There are scams.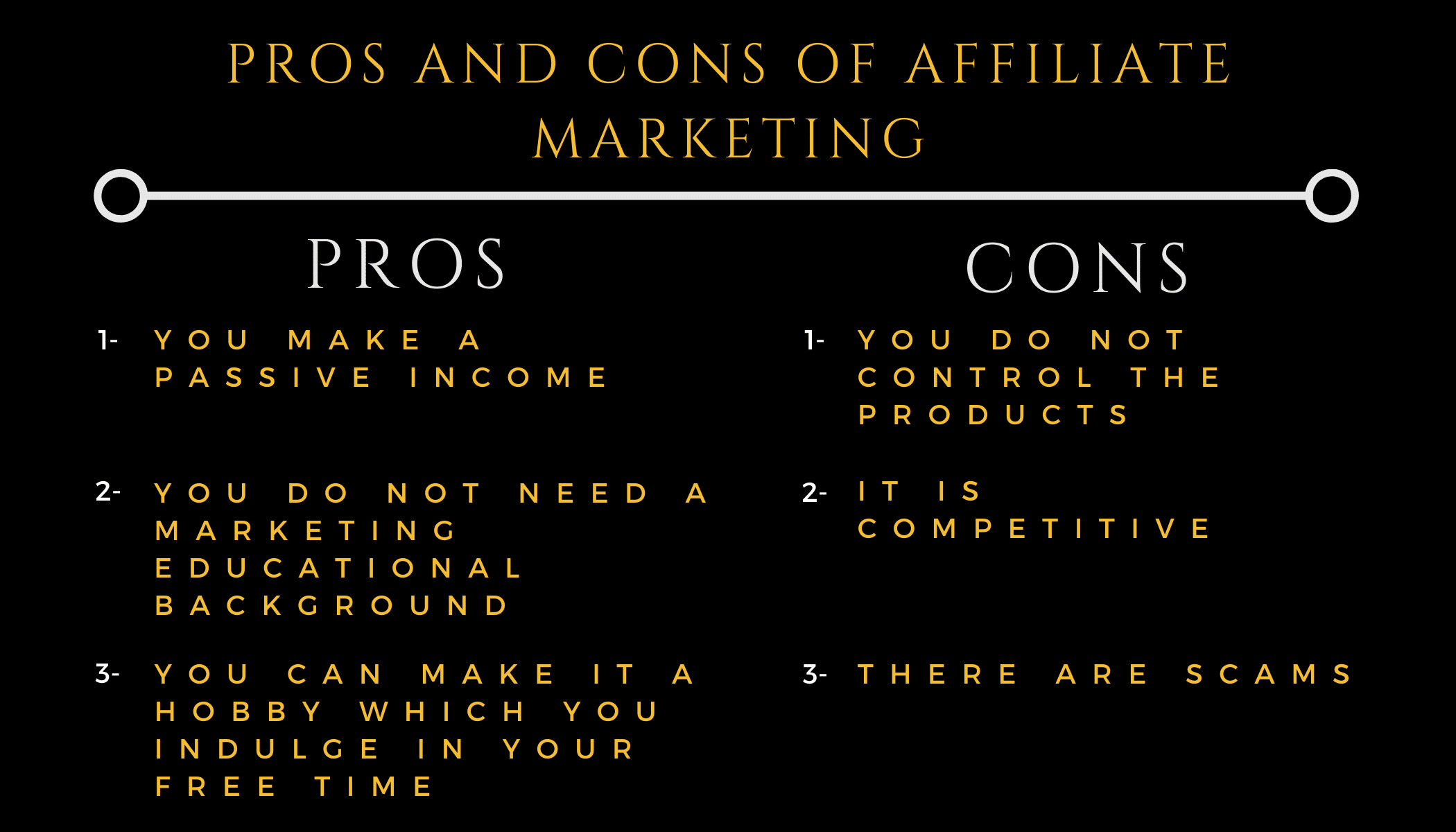 Which Is The Ideal Site For The Content That You Have In Mind?
Twitter is for articles, Instagram, and Pinterest for visuals, LinkedIn for bigger deals with more serious financial outcomes.
Things That You Should Do As A Beginner In Affiliate Marketing
You should find a problem that your audience has and then solve that problem.
You do not just need to have an audience
you should deliver what they want.
If your article is about football and you are posting ads about printers then that would not work, you should put up ads for football merchandise; instead, it is as simple as that.
Soon, you should have a proven track record behind you, which will make you successful at this passive income money-making scheme.
It is an excellent passive income. But, you should not leave your job just as of yet. Do not be in a hurry to quit that job because affiliate marketing is better as a passive income.
It is not only your track record, but you also have to look at the merchant's track record and the product's track record because that is indirectly going to affect your track record, and hence, look for the merchant company's longevity.
It is not as easy as it sounds, and it is wrong that hard work is not required. You'll need skills such as video editing, writing, SEO, you'll need research ability, hours of talking to the followers who buy from the links, and communication with the merchant. Hence, you must have some patience.
What Is More?
Once again, If you want to keep growing at affiliate marketing, then you will have to learn one thing, which is SEO.
You should be able to use your product's or service's name as many times as possible so that it becomes apparent that you are helping with the promotions and sale of this product or service.
Do your keyword placement so strategically so that you are mentally forcing the buyer to give you his credit card details and make a purchase.
Your affiliate marketing content and marketing attempt should not have only texts; it should have images, citations, and references to make it a successful effort. You should try your hand at the text, video, audio all sort of content because there is not much to lose.
Everything you do has to be value for money. You should create not only more content but also quality content.
How To Rock At Affiliate Marketing As A Beginner
You'll need to pre-plan
Your goal should be clear
You should know the tastes of your target audience.
What means will you ask for people to pay?
How will the audience pay?
How you will include the names of your product or service in your marketing attempt also matters.
It would help if you used a Google keyword planner, so you know what the hottest selling in the online selling domain is.
Make sure that your content is original and not plagiarized
You should sweat the small stuff like you should know that the content of at least 1200 words is ideal.
You should understand your competition, for that you should go to the platforms such as SME rush, and Flippa.
Your work should have a lot of social media shares.
Make sure that you get a lot of social media comments on your blog
Your more telling stats are the number of email signups, number of affiliate clicks, and your overall downloads, which should also reflect positive changes.
If you want to engage your audience seriously, then create a sense of urgency in your posts, like an offer that was to end soon, ending discounts.
But, sometimes, you are just collecting an audience, and you need email addresses, and in that case, you can have a pop up where someone has to fill in the email address before leaving.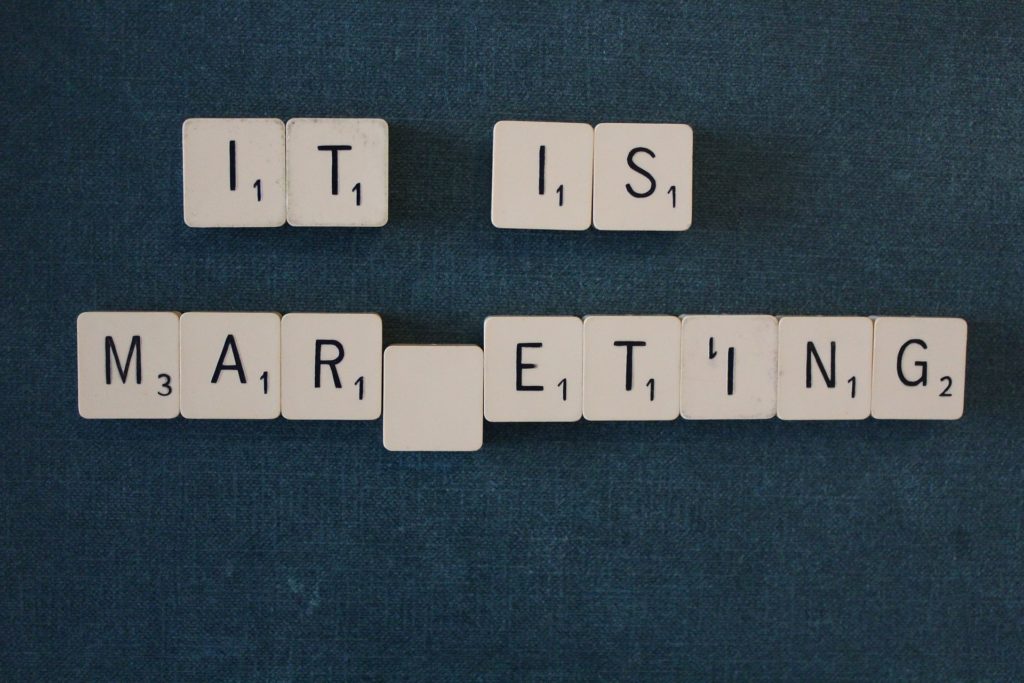 A Cheat Sheet To Make Your Audience Buy The Product
You could use tactics such as your audience's phone vibrates when you are making an important announcement.
When you are sure that the user is about to exit the landing page, you can quickly redirect the user to another main brand page.
If you use JavaScript, then you can make sure that the user stays on your page for a longer time.
If you use audio, it is like talking to the person directly.
One other tip that works is when your whole page can be clicked upon, so that no matter where the user clicks, the person is redirected to the leading site of the brand.
You can disable the back button so that the user has to spend time on your page.
You should give options to the user, buy the product, avail of the service, filling the site form, and give their emails.
Also, you can ask for the user's Skype, you can get them to telephone you, and you can ask them for Whatsapp, which is excellent.
 Conclusion
I hope you got some valuable insights into affiliate marketing. Sell products that you can relate to, do not fall for a scam. Ask for a free sample of the product that you are selling so that you know what you are venturing into.
People Also Read
# Google Adsense Invalid Activity Appeal
# 9 Amazing Google Chrome Extensions for SEO
# WordPress Ping List for Super Faster Indexing